Georgia Composite Medical Board
COVID-19 TESTING AND VACCINATION Information
For information about Covid-19 testing please click here.
For information about COVID-19 vaccine locations please click here. 
CDC Guidelines for Prescribing Opioids for Chronic Pain
The following information is from the CDC and is provided to assist when prescribing opioids.  For CDC guidelines click here.  For CDC fact sheet please click here.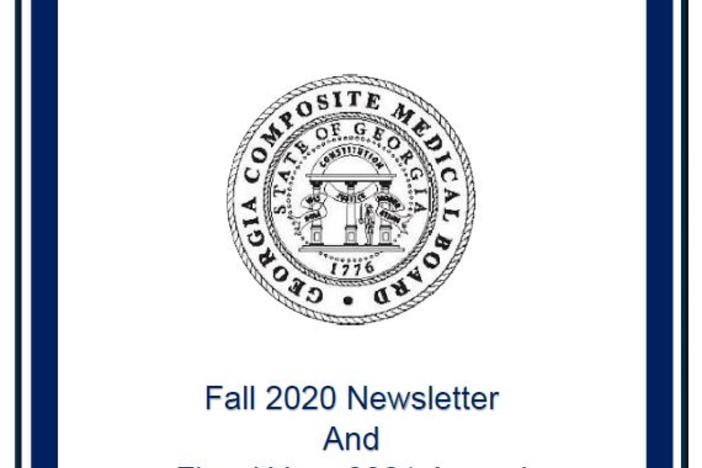 GCMB Rules and Laws
Click to access the repository of current rules and laws of the GCMB.
Emergency Alert
The Georgia Composite Medical Board Staff has received several phone calls from multiple licensees stating that someone is calling and pretending to be an agent of the Medical Board. These calls are trying to obtain both personal information and or money. These calls are scams.
Information regarding your licensure number, issue date, expiration date, and address of record is available on the Board's website. Your NPI number is also available on the Internet. The Board would not contact you by phone to obtain your personal information or money. We may contact you to set up a time that you can contact us and give you a valid call back number or schedule an in-person meeting. The Board is in Atlanta, GA and all phone numbers from the Board will have Atlanta area codes (404, 470, 678 or 770). It has also come to the Board's  attention that the scam callers are "spoofing" the Boards number. If in doubt, please hang up and call the Board directly. Board staff is aware of these types of calls and will understand your need to verify their identity.
If you receive a call like this, please do not give any personal information or money and disconnect the call. If you need any additional information, please contact Edva Smith, Director of Investigations at email address [email protected]. 
Georgia Composite Medical Board 2 Peachtree Street, N.W.,
6th Floor,
Atlanta, Georgia 30303
UPDATE ON COVID-19
In response to the State of Emergency that has been declared by the Federal and Georgia legislatures, the Georgia Composite Medical Board encourages licensed prescribers to follow CDC guidelines in leveraging telemedicine technologies in order to protect patients and the healthcare workforce. In general, prescribers should adhere to the state rule on Practice Through Electronic or Other Such Means as amended at the March 5, 2020 meeting.
Read More
For Licensed Professionals
For Consumer
File a Complaint
To review the Board's Complaint process and access the Online Form